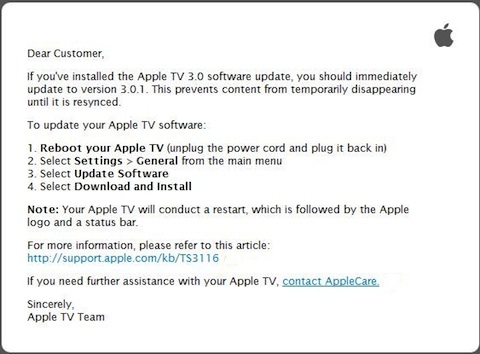 Nuovo aggiornamento software per i possessori di Apple TV che va a risolvere un fastidioso bug creato dal firmware Apple TV 3.0 uscito poco più di una settimana fa. Come da immagine di apertura (grazie a Federico per la segnalazione), è l'azienda stessa ad invitare tutta l'utenza ad aggiornare, il più presto possibile, il proprio dispositivo.
Apple TV 3.0.1, infatti, corregge un bug che fa sparire, temporaneamente, i propri contenuti multimediali presenti nel device. Per risolverlo è sufficiente scaricare ed installare il nuovo sistema operativo dopo aver riavviato la propria Apple TV (per farlo nel modo corretto bisogna disconnettere Apple TV dalla rete elettrica).
Il nuovo sistema operativo Apple TV ha decisamente modernizzato sul piano software questo device da salotto che ormai sente sulle spalle un po' di peso dell'età. Apple ha ridisegnato il menu principale per consentire così un accesso più veloce ai film noleggiati o acquistati e al resto dei contenuti multimediali presenti nella Apple TV. Sono finalmente disponibili anche i Genius Mix e la piena compatibilità con la Internet Radio. Tutti i possessori di una Apple TV possono scaricare il firmware 3.01. attraverso il dispositivo in modo automatico tramite il menu "Impostazioni", "Generale", "Aggiornamento Software".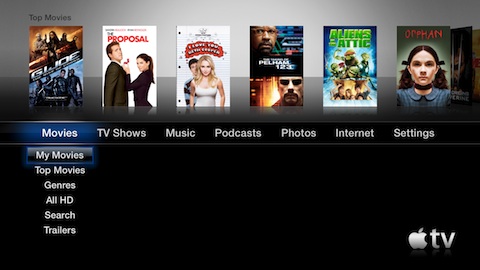 Per gli interessati, ecco l'avviso completo inoltrato da Apple:
Dear Customer,
If you've installed the Apple TV 3.0 software update, you should immediately update to version 3.0.1. This prevents content from temporarily disappearing until it is resynced.
To update your Apple TV software:
1. Reboot your Apple TV (unplug the power cord and plug it back in)
2. Select Settings > General from the main menu
3. Select Update Software
4. Select Download and Install
Note: Your Apple TV will conduct a restart, which is followed by the Apple logo and a status bar.
For more information, please refer to this article: http://support.apple.com/kb/TS3116
If you need further assistance with your Apple TV, contact AppleCare.
Sincerely,
Apple TV Team