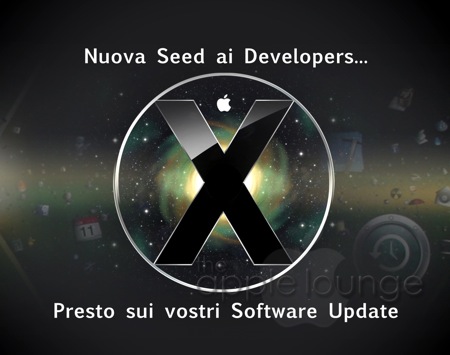 Una settimana dopo l'ultimo rilascio ai developer della beta di Leopard 10.5.3, Apple rilascia alla comunità di sviluppatori una nuova seed da verificare.
Procedono spediti i lavori di perfezionamento di Leopard da parte dell'azienda di Cupertino, segno che non si stanno concentrando solo sul firmware 2.0 di iPhone.
Le aree d'interesse su cui Apple chiede ai developer di concentrarsi con i test sono le medesime della scorsa settimana, ma rispetto ad allora sono aumentati i bug fix segnalati con il rilascio della build, la 9D25.
I test sono finalizzati alla risoluzione di problemi specifici riscontrati da Apple stessa o segnalateli dagli utenti (a proposito, mandate sempre le segnalazioni dei crash di programmi e sistema), in particolare su:
Active Directory/Directory Services
AFP
AirPort
Audio
Back To My Mac
Dock
Finder
Graphics
Installer
Mail
Spaces
Time Machine
e molti altri aspetti che stanno nelle fondamenta di Mac Os X.
Allo stato attuale di sviluppo di Mac Os X Leopard 10.5.3, le correzioni al codice e i miglioramenti in funzionalità e stabilità dei programmi sono oltre 200, quando settimana scorsa eravamo a quota 170.
Alcuni dei problemi risolti attualmente sono relativi ad errori di scrittura da parte del Finder, la vista colonne in Mail.app, problemi tra Airport e la crittografia 802.1X, problemi di crash collegandosi a server Apple File Protocol.
La lista completa riportata da Apple nelle note di rilascio è la seguente:
Fixed problem with Mobile Account login pane and MCX Client
Fixed issue with PrintingPlugins
Issue with WebDAV FS and network_seqwrite_manager resolved
Code signature issue with Package Data fixed
Fixed issue with AFP Server and AppleFileService
Fix to Network pref pane and certification-base authentication
MCX Client fix to ManagedClient
Adding printer via Bonjour with CUPS driver fixed
Fixed binding issue with AD DS Plug-in
Fixed issue with hot spots and static text
802.1x Login Window profile can now be deleted
Fixed hanging issue with AFP Server
Fix to AirPort 802.1X
Fix to Address Book and LDAP search results
Fix to mDNSResponder
Mail Message List and Unread Column now works correctly
Issue with Safari bookmarks and .Mac Mail account resolved
Resolved issue with Mac Buddy and AirPort connection
Fixed leak issue with Finder accessibility windows
Issue with mounted Boot Camp volumes fixed
Ping6 and Back to My Mac now works correctly
Fixed crashing issue with Network pref pane
Fixed issue with Finder and sequential write operations
Il peso della build attuale sono ben 415 Mb.
I tempi di rilascio previsti per Leopard 10.5.3 sono di 2-3 settimane.
Ancora poco e il nostro leopardo ruggirà di nuova potenza.

[Via]